about


michael lebson prigoff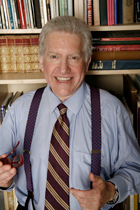 Michael L. Prigoff is the Managing Attorney of Lebson & Prigoff, LLC. For more than 35 years, Mr. Prigoff has represented clients with care, concern and a commitment to excellence.
A graduate of Williams College and Boston University Law School, Mr. Prigoff clerked for a New Jersey Appellate Division judge before working for Riker Danzig in Newark until 1982, when he joined Lebson & Prigoff as an associate.
Mr. Prigoff is admitted to practice law in New Jersey, New York and Massachusetts. He is a member of the American, New Jersey State and Bergen County Bar Associations. He has regularly been named as one of New Jersey's Super Lawyers and has an A/V rating from Martindale/Hubbell.
With substantial experience in alternative dispute resolution, Mr. Prigoff has served as a mediator in commercial and community disputes and has lectured and written on alternative dispute resolution and technology issues.
Mr. Prigoff represents individuals, families and businesses and provides problem-solving solutions to our clients in a wide variety of fields bringing in specialist affiliated attorneys as needed to best serve our clients' needs. He also has a long-established estate planning and estate and trust administration practice, and concentrates in commercial litigation, health care and Civil Service appeals.
Michael Prigoff combines his training and experience with compassion and commitment to excellence to help put his clients into the best position to successfully resolve their problems.
Lebson & Prigoff, LLC
Managing Attorney, 2011 - present
New Jersey Super Lawyer
2005 - 2006, 2008 - Present
Lebson, Prigoff & Baker, LLP
Senior Partner, 1982 – 2010
General Counsel
Former Northern New Jersey Council, BSA
American Bar Association
Member, American Bar Association, Present
Member, Board of Governors, 1994 - 1997
Delegate, House of Delegates, 1989 – 2003
Member, Standing Committee on Dispute Resolution, 1986 - 1991
Member, Standing Committee on Technology, 2004 – 2007
Englewood Rotary Club
Member, Present
President, 1993 - 1994
Awardee, "Community Service", 2012
Closter Board of Ethics
Chairman, 2006 – 2008
Englewood Hospital and Medical Center
Trustee, 1987 - 2007
New Jersey State Bar Foundation
President, 1989 - 1992

New Jersey State Bar Association
Member, 1977 - Present
Trustee,
New Jersey Institute for Continuing Legal Education
Chairman, 1986 - 1989

Bergen County Bar Association
Member, 1977 - Present

Essex County Bar Association
Member
Trustee
Councilman and Fire Commissioner
Borough of Leonia, 1983 - 1985
New Jersey State Bar Association Young Lawyers Division
Awardee, "Outstanding Service to the Bar", 1984